Outboard Skiff 15
Outboard Skiff 15 by Bateau.com
[OB15] Outboard Skiff 15 one of our smallest planing vee-hulls. designed for semi-protected waters
Length overall
15' 3"
4.65 m
Beam
5' 5"
1.65 m
Draft
6"
0.15 m
Weight
386 lbs
175 kg
Engine power
50
Hull construction
Stich-n-glue
See also
Outboard Skiff 18
compare
URL: http://www.bateau.com/proddetail.php?prod=OB15
Description:
This 15' outboard boat is an very popular plan. The design is more a composite boat than a stitch and glue one. Such an epoxy/plywood composite boat will be lighter and/or stronger than a similar production boat. Lighter, she will go faster and burn less fuel.
We designed the biggest boat possible using 4 sheets of plywood for the hull. A 15 hp outboard is sufficient to get her out of the hole with one person on board but a 25 hp is the ideal engine. The interior layout is typical of a fishing boat that will also be used for family outings. There is room for an Igloo cooler lashed behind the forward floor and lots of storage. She is unsinkable thanks to the foam under the floor and the motor well.
Plans for a stretched version of this boat, the OB18 (LOA 18') are available.
This boats transom is designed for a standard 15" shaft. The transom can easily be modified to accept other shaft lengths.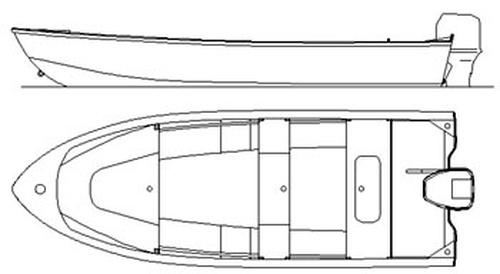 See also
Boats about same size as Outboard Skiff 15
---
Questions? Suggestions? Contact us at: info@boatplans.cc