Outboard Skiff 17
Outboard Skiff 17 by Bateau.com
[OB17] A simple to build, economical and able vee-hull outboard boat
Length overall
17'
5.16 m
Beam
6' 6"
1.98 m
Draft
7"
0.19 m
Weight
750 lbs
340 kg
Displacement
1453 lbs
659 kg
Engine power
30 - 75
Hull construction
Stich-n-glue
compare
URL: http://www.bateau.com/proddetail.php?prod=OB17
Description:
The OB17 offers the maximum seaworthiness one can obtain in a boat of that size that is also easy and economical to build. We designed the largest hull one can get out of 7 standard sheets of plywood. This defined the length and the freeboard. We were able to obtain a safe average cockpit depth of 24" in a boat with a self bailing cockpit.
Offshore & Bay 17 would be an appropriate name: small enough to explore protected waters but offshore capable in the hands of the right skipper.
Comparisons:
Compared to the OB15 and OB18, the OB17 is wider and has more freeboard. Compared to the C19, she is more economical and simple to build. The sides are made of one panel instead of two and the framing structure has been kept simple and sturdy.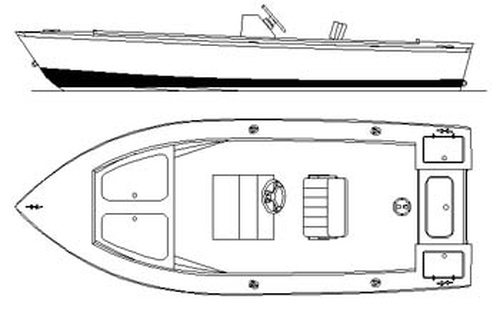 Boats about same size as Outboard Skiff 17
---
Questions? Suggestions? Contact us at: info@boatplans.cc