Outboard Dory 16
[OD16] State of the art fast planing boat features plus extreme ease of construction
URL: http://www.bateau.com/proddetail.php?prod=OD16
Description:
The displacement at DWL is 1,500 lb. (680 liters). The PPI is 298 lb (53.3 kg/cm).
A US Coast Guard capacity tag would show max. capacity 4 persons or 650 lb., 950 lb. persons motor and gear. Max. 25 HP with tiller steering, 40 HP with remote steering. It would be very easy and legal to calculate a tag for 7 persons and 1,700 lb. but the boat would be crowded.
The boat was tested with a 70 HP but we do not recommend more than 40.
This boats transom is designed for a standard 20" shaft. The transom can easily be modified to accept other shaft lengths.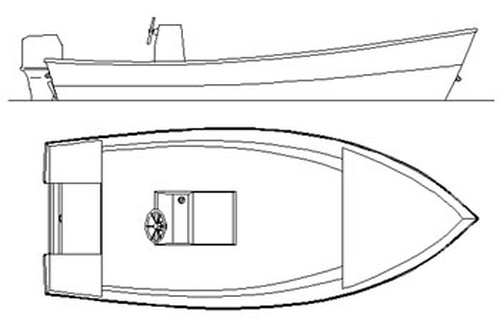 See also
Boats about same size as Outboard Dory 16
---
Questions? Suggestions? Contact us at: info@boatplans.cc